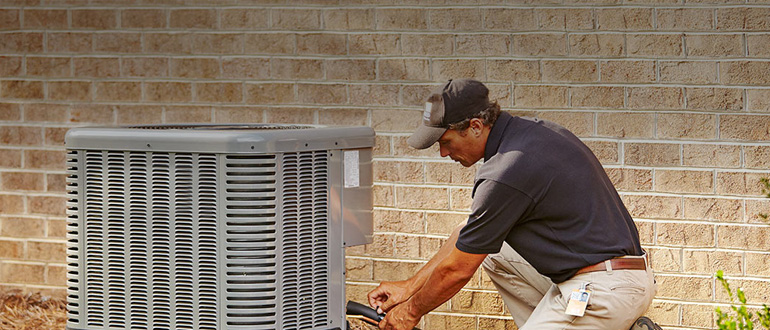 Once considered a luxury, ACs have now become a necessity. When the sweltering summer comes around, your AC goes into overdrive to maintain your desired home temperature. Like other machines, ACs can run into trouble every now and then. Some common causes of AC problems include lack of maintenance, improper use, and faulty installation.
The sooner you have an AC problem addressed the better. A faulty AC is unreliable and can stop working anytime, leaving you high and dry. If you ignore AC problems, they could snowball into major issues and lead to costly repair or in a worst case scenario, serious damage could occur to your system and you may have to replace it sooner than you expected. Also a malfunctioning AC is costlier to run and may have a shorter lifespan.
Instead of trying to repair your AC yourself, hire a knowledgeable expert for local AC repair in Ashburn. An experienced contractor knows all there is to know about the different types of air conditioners. They have an in-depth understanding of AC problems and an unparalleled ability to come up with cost-effective solutions to them.
You cannot trust a professional blindly and take every word that comes out of their mouth at face value. Steer clear of amateurs masquerading as experts. They make tall claims but lack the expertise to deliver the goods.
Here are some things to check before hiring a contractor.
Certifications and License
Make sure the contractor you are considering has a valid license and is certified to carry out AC repairs. To earn their license, a professional must complete an apprenticeship program, gain the required experience and pass the licensing exam conducted by the state in which they wish to work. Certified and licensed contractors are required to stay on top of industry trends and should commit to continuous learning.
Insurance
Look for a contractor who carries workers' compensation insurance and liability insurance. If you hire an uninsured contractor and a crew member meets with an accident and gets injured while working on your property, you may be held liable for damages. When you hire an insured AC installation contractor in Ashburn, on the other hand, and a crew member gets injured on your property, their insurer takes care of the claim.
Reputation
There are several ways to check a contractor's online and offline reputation. Check out their social media profiles to see what their customers are talking about them. Go to third party review websites to read reviews written by genuine customers.Check the business's BBB ranking.
Talk to your acquaintances who have used the service recently. Ask them about their experience working with the professional and if they'd hire them in future.
Affiliations
Find out if the contractor you are considering is a member of any industry association. To become a member of a professional association, a contractor must demonstrate their expertise. Members are required to commit to lifelong learning and should upgrade their skills regularly to maintain their memberships.
Track Record
You can call the local licensing authority's office to check if the license of the contractor you are considering was suspended in the past. If it was, find out the reason, rather than jumping to conclusions. In many cases, a minor violation such as failure to pay licensing fee can lead to license suspension.
Talk to the references provided by the contractor. Ask them if they're satisfied with the end result. Here are some other questions to ask a contractor's references.
Did the contractor provide you with a detailed repair estimate and explain the costs to you?
Was the job completed on-time?
Did the contractor's crew clean the jobsite after completing the job?
Would you consider the contractor for future projects?
Availability
Even well maintained ACs could break down at odd hours leaving you high and dry. Look for a contractor who works round the clock and can respond to AC emergencies swiftly and effectively.
AVS Heating and Air Conditioning is a renowned HVAC expert in Ashburn. Our technicians have years of hands-on experience repairing, installing and servicing different types of air conditioners. To schedule a full-service AC inspection, call 703-457-9028.