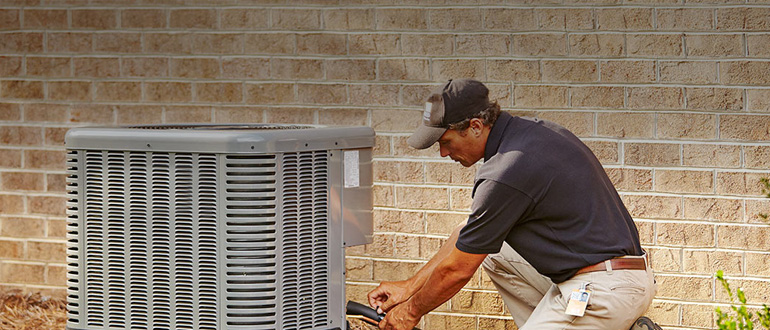 A split system air conditioner can help keep your house cool during summer. Split ACs are not only quieter and simpler to install, but are also more energy efficient than central air conditioning systems.
Because split ACs don't have ducts, installation is fairly simple and straightforward. To install a split system AC, first place the cooling unit indoors and the compressor and condenser unit outside, then run piping and a power cable between them. If you have no prior experience of AC installation or do not understand how a split AC works, leave the job to a professional.
Installation quality can affect AC performance and lifespan. An improperly installed unit is less energy-efficient and can be very costly to run. It is also unreliable and can hence, keep running into problems and may even have a shorter lifespan.
To help ensure a flawless split AC installation, we have compiled a list of some installation guidelines. Take a look.
Select an Unobstructed Location on Your Interior Wall
You'll need to create an opening in the wall to route the pipes from the inside unit to the outside unit, so make sure the spot you pick allows you to do so. To ensure optimal performance, select a spot that does not receive direct sunlight and is away from heat sources. Install the outdoor unit in an open area so there is enough space for the heat from the condenser to disperse. Avoid areas where there's a risk of gas leakage as well as areas where oil mist or sulfur could be present.
Install Your Unit at the Correct Height
Position the unit about 7 feet (2.1 m) above the ground and ensure a clearance of 6–12 inches (15–30 cm) on all sides to allow for proper airflow. This ensures effective distribution of conditioned air throughout the room. Installing your AC at the right height is also important to make sure it does not put in extra effort to cool the hot roof, which could result in increased electricity costs.
Make Sure the Wall is Strong Enough to Hold Your Unit
Choose a location with wall studs to and make sure the wall can support the weight of the unit. The wall should also be strong enough to endure vibrations caused by the unit when it is running. Place the unit at least 3.3 feet (1.0 m) from antennas and cables used for televisions, radios, home security systems, intercoms, or telephones. Electrical interference from these devices might lead to performance issues with your air conditioner.
Though installing a split AC is relatively simpler than a central air conditioning system, split system AC installation still needs expertise. Even a single installation mistake, no matter how minor it may seem can lead to costly problems. It is therefore a good idea to hire an expert for air conditioning installation in McLean, VA. A professional has acquired specialized knowledge and is equipped to ensure a flawless installation. You should also leave other specialized tasks such as air conditioning replacement in McLean, VA and AC maintenance to the experts.
Spacing
To ensure optimal airflow, leave at least 10-15 cm of open space around the top and sides of the split AC's indoor unit. Failure to do so can lead to airflow problems and your AC may be unable to expel heat. When this happens, your system is forced to work harder. An overworked split AC consumes more electricity and may need to be replaced sooner than expected.
Maintain the Right Distance Between the Indoor and Outdoor Units
It is not unusual for some cooling loss to occur as the refrigerant circulates between the indoor and outdoor units.To minimize this loss, maintain the shortest possible distance between the indoor and outdoor units of your split AC. Experts recommend that this distance should not exceed 15 meters.
AVS Heating and Air Conditioning is one of the most trusted HVAC contractors in McLean, VA. No matter how complicated the HVAC problem you are struggling with is, we can come up with a cost-effective, long-term solution to it. To schedule AC repair, call 703-457-9028.