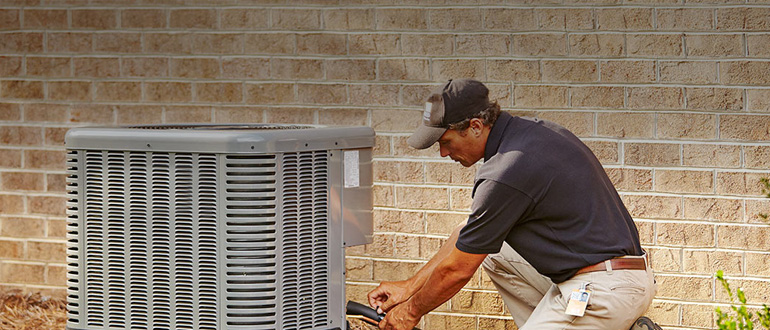 How often do you plan a maintenance visit for the heat pump in your home? Performing proper maintenance of your heating, ventilation, and air conditioning (HVAC) system is the best way to ensure it will perform smoothly and reach its maximum service life potential.
Plus, you'll have peace of mind knowing your heat pump is in peak form with no signs of danger. After all, nobody wants to face a system collapse.
AVS Heating & Air Conditioning understands how crucial it is for your heat pump to work at its best capacity. You depend on your system for comfort, and we assist you in achieving this. Whether you need to remain warm or cool down, we are here to help.
A heat pump supplies the heating and cooling you need for the best indoor comfort and keeping up with periodic maintenance from our HVAC company in Alexandria is vital for it to remain in peak condition. Let us walk you through simple heat pump maintenance tips to maintain maximum efficiency.
Change or clean your air filter.
Like many other types of HVAC systems, heat pumps feature an air filter that needs to be updated every one to three months. Air filters are designed to collect particles, so you do not breathe them in.
Your air filter stops a considerable amount of dust, grime, pet dander, bacteria, and viruses from circulating in the air throughout your home, thus improving your indoor air quality (IAQ). If you don't replace or wash a reusable filter, you'll expose yourself to the buildup of debris and toxins. This can increase symptoms of diseases like asthma, allergies, and upper respiratory disorders, so if you battle with any of these, be sure to change your filter periodically from our heat pump repair company in Alexandria.
Clean your heat and surrounding area carefully.
Keep the area where your outside unit is positioned as clear as possible. Mow the surrounding grass and trim any bushes, shrubs, or nearby plants. Ideally, your heat pump should have a clearance of at least a couple of feet on each side for optimal ventilation.
Remove dirt, leaves, branches, and other debris from the top and sides of your system. Otherwise, there is a risk of damage to the heat pump. When the weather is warm, you can carefully wash it with a garden hose in a gentle setting.
Opt for professional maintenance annually
Doing your bit to maintain your heat pump is vital to remain in good condition, but you can also leave it to our specialists to perform maintenance—big or small, we handle it all. You should be arranging a professional heat pump maintenance visit at least once a year anyhow.
With professional maintenance from our HVAC company in Alexandria, you'll be able to remain in compliance with your warranty, lower the danger of a complete system breakdown, and increase the overall efficiency of your system.
You might save up to 30 percent on your energy cost when you perform maintenance services that promote ideal system efficiency, according to the Indoor Air Quality Association (IAQA). You can give us a call at (301) 686-7129 to know more about our heat pump maintenance services.