Home
/
Blog
/
AC Companies
/
Things to Consider While Buying Lennox Central Air Conditioner in 2023?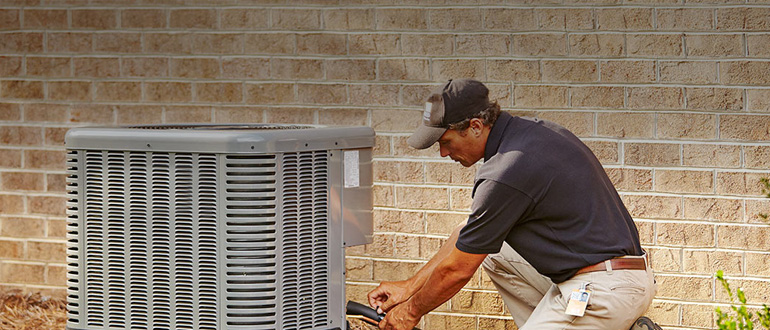 Lennox Central Air Conditioner Prices | 2023 Cost Guide
When it comes to buying a new air conditioning unit, there are a few things that homeowners must take into consideration. The cost of an air conditioner can vary based on the air conditioner brand you buy, warranties offered on the unit, the lifespan, size of the unit, and the SEER ratings of the air conditioner you choose for your home. If you are confused or do not know how to choose the correct air conditioning system for your home, you can rely on the advice of AVS Heating & Air Conditioning – a reliable HVAC Repair Company in Arlington.
One of the most common questions asked by homeowners is, who makes the best air conditioner units? While there are several brands in the market, Lennox is a name you cannot overlook. Lennox is one of the pioneers of air conditioning units and has been in the market for several decades. It means that you can rest assured that you will be investing in a well-built unit that will give you years of loyal service when you buy a Lennox air conditioner. This also means that you will spend less with Air Conditioning Repair Companies in Alexandria. In this guide, we will dig into the various factors that affect an air conditioning unit's cost. We shall also give you some tips on how you can pick out the right cooling system for your home.
Factors That Affect the Cost of an Air Conditioner
It is not uncommon for many homeowners to be concerned about the price of a new air conditioner, especially for those who may be buying a cooling system for the first time. There are numerous brands available in the market that can make the decision-making overwhelming. Therefore, it is important to know what factors can affect the cost of a cooling system and how to pick out the right HVAC or cooling unit for your home and needs.
Efficiency: The first factor on our list today is efficiency. This is the most critical factor that determines how much you will spend on a new air conditioner. A cooling unit with a high SEER rating is bound to be more expensive. However, it is important to note that investing in a unit with a high SEER rating will be beneficial in the long run. Air conditioning units with higher SEER ratings are designed to consume less energy to cool your home when compared to units that have low SEER ratings. Any certified cooling technician will explain the different SEER options available to you and recommend the right unit for your needs.
Air Conditioner Manufacturer: Next on our list is the air conditioner manufacturer or the air conditioner brand. There are dozens of companies that manufacture and sell air conditioning systems at different price points. While it may be tempting to buy a unit that costs low and markets itself as highly efficient, we recommend that you do your research. Remember that you get what you pay for. Therefore, you may want to look into other factors such as reviews on the model, manufacturer warranty, and the features the unit offers before you invest several hundred dollars into an air conditioning unit. By researching the models you have short-listed, you will get a sense of what you can expect and, therefore, will be able to make a more informed decision. When in doubt, you may rely on the expert advice of more than one HVAC company and compare notes to arrive at a decision.
Installation Company: While picking out the right air conditioner is half the job; it is important to remember that you must also pick out the right company to install and maintain the system for you. An incorrectly installed unit can lead to additional investment in terms of repair and technician visits. Make sure you hire an HVAC company that is reputable and also provides installation guaranteed. As with air conditioning brands, it is important to research the company you plan to hire before you sign across those dotted lines.
Now that we know what factors affect an air conditioner's cost, let us go through the cost of a few Lennox models.
Lennox models are sold in different sizes. You will have to choose the unit size depending on the cooling area. If you need to cool a small one-bedroom condo of about 600 sq. ft. area,you should purchase a 1.5-ton air conditioner that will cost you about $1,645 for the unit alone. With installation, the cost of a 1.5 ton Lennox air conditioner will go up to about $3,345. Likewise, if you need a 5-ton air conditioner, it will cost you anything between $5000 and $6000. This price includes installation.
Much like how the cost of an air conditioner varies based on its tonnage, the cost of the unit will also vary based on its SEER ratings. For instance, the Lennox 13ACX with a SEER rating will cost you about $3,090, including the unit price and the installation cost. However, as mentioned earlier, it is recommended that you invest in an air conditioner that has a higher SEER rating. A cooling unit with a SEER rating of 26 will cost you approximately $3,775 for the unit and an additional $3000 for installation. If you are looking for a mid-budget unit, you will do well with the Lennox XC16 with a SEER rating of 17, which will cost you approximately $3,880 for the unit plus installation.
If you are moving into a new house and are looking for an air conditioner unit, remember that there are several factors you must consider while shopping for one. It is, highly recommended that you consult a reliable and reputable HVAC company such as AVS Heating & Air Conditioning that can help you choose the suitable unit for your home. Our technicians will gladly walk you through the many options available to you and help you pick one that meets not just your needs but also your budget.Besides AC installation, we also provide numerous other services that include but are not limited to Air Conditioner Services in Bethesda, MD. Call us today at (703) 457-9028.