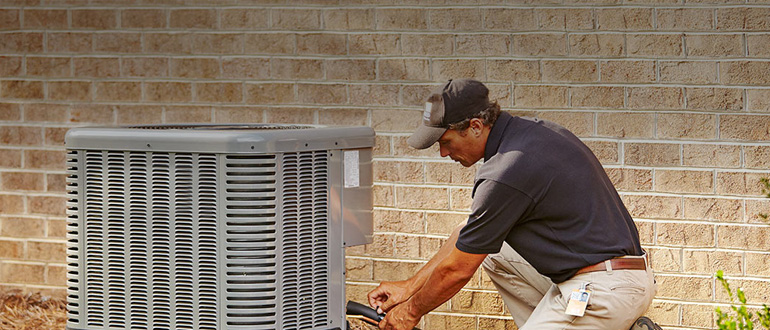 When it is extremely cold, and a room heater fails to make us feel warm at home, a gas fireplace is a better option and has a warranty period of 10 to 15 years.. A gas fireplace uses natural gas or propane as fuel. The ignitor, upon receiving the fuel, ignites the pilot light. The ignited pilot light results in the flame in the burner.
If you require professional gas fireplace repairs in Fairfax, or Alexandria, VA, be sure to contact AVS Heating & Air Conditioning for assistance.
Troubleshooting Tips for Gas Fireplace
You can detect and eradicate gas fireplace malfunctions in four ways.
Thermocouple Evaluation
Thermocouples or thermopiles are electrical sensors. The only difference is thermocouples are used in older models of gas fireplaces, whereas thermopile does the same work for modern fireplaces. A thermocouple works according to thermostat temperature.
If you face any issues with the flame size and its heating capacity, you should check the thermostat temperature settings. Increase the temperature to verify if the ignitor is working accurately. If the ignitor is working accurately and the thermocouple cannot perform its function, it may need a replacement.
Clean Fireplace Unit
The decreased heating output, fuel leakage, short cycling, etc., are caused due to dirty fireplace units. There can be soot and debris accumulation in the burner and chimney. Use a vacuum to clean the gas fireplace. If you sense a gas leak, shut your fireplace off, ventilate your home, and move outside. You should contact the professional immediately after smelling a gas leak.
Pilot Light Condition
If the pilot light is not turning on, insufficient fuel can be the reason. Check the fuel supply to ensure that it is enough. Also, check the gas valve to verify whether they are open. If your fireplace works with an electrical ignition, check the circuit breaker.
When the fuse and wiring are in poor condition, or you see loose and melted wires, this will stop the pilot light flame. Relight the pilot light with the long-nozzled lighter. If the pilot light still fails to ignite the flame, contact our technician for gas fireplace repair in Fairfax, VA.
The Chimney Should Be Intact
Creosote, a thick black layer, can build up in the chimney. It obstructs the ventilation process. It can also cause a fire hazard. Creosote buildup appears when the chimney lacks cleaning. You should hire a certified chimney sweeper to get your chimney cleaned.
Another reason for a problematic chimney performance is its poor size. If the chimneys are too short, they will not work efficiently. It should be three feet above the rooftop. You can invest in a segment of chimney pipe to extend its length.
Conclusion
For HVAC services and fireplace repairs contact AVS Heating and Air Conditioning. No matter how complex the issue is, we are always ready to fix your problems. If your fireplace is also not working effectively, contact us for fireplace repair in Alexandria, VA, and the surrounding areas.