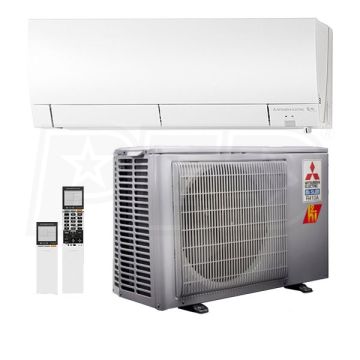 An air conditioner is one home appliance that is considered a luxury by some, while others see it as a necessity. Its need mostly depends on the climate and area of the particular region. Many people are not aware of what ductless air conditioning systems are, although these systems are considered to have several benefits over other standard systems. If you are looking forward to installing an air conditioner in your house, then you should at least understand the process of ductless air-conditioning. Ductless air conditioning systems, also known as split system air conditioners and mini-split systems are well known to provide comfort and quality living into your home.
What is Ductless Air Conditioning?

Ductless air conditioners are cooling systems that function without the utilization of central air duct systems. These systems comprise a wall or ceiling-mounted blower to render air conditioning in a room. They are increasingly becoming a popular option over conventional air conditioners, and are used peculiarly in small apartments, sun porches, and houses that are built without the duct systems.
Components in Ductless Air Conditioning Systems

These systems comprise two primary parts. The first one is a cooling component that is located inside the house, and the other one is the air compressor which is fixed outside the house. Both the components are connected using a conduit which consists of a condensate drain, suction tubing, refrigerant tubing, and a power cord. These ACs come along with remote control and are incorporated with built-in timers which are put into use for setting the systems' cycle.
The function of Ductless Air Conditioning Systems
These systems are designed and made with a pair of refrigerant lines which are present between both the systems' inside and outside components. The first pair is responsible for providing electricity, whereas the second one removes water or condensate. This process maintains a flow of cool air from the compressor component to the cooling unit which delivers the cool air inside the room.
The capacity of Ductless Air Conditioning Systems
For an average home, three of these systems are more than enough to provide cooling to the complete house without the use of air ducts. You may utilize a particular system for cooling only one single room or the whole house. This is due to the fact that every separate unit is incorporated with a thermostat which allows you to set different temperature levels for separate rooms they are situated in. Moreover, their fan also provides variable speeds.
Installation Costs of Ductless Air Conditioning Systems
Depending upon how big your house is, the installation expenses for an entire system range from approximately $2000 to $7000. Ductless air conditioning systems installation cost is about twice that of installing a window system and around 30% more than a central system installation. if your home already has ducts. If your house does not have ducts or the space to install them, it is generally less costly to install a ductless air conditioning system than a central system.
Choosing the Appropriate System
It is most significant that you choose the right size of the ductless system for the purpose of comfort as well as operating expenses. The aspects that need to be considered when choosing one of the correct sizes are square footage of the space to be covered by the system, type of lifestyle, number of people residing, climate, number and kinds of house windows, thickness of insulation in the walls, insulation in the attic, and many others.
Advantages of Ductless Air Conditioning Systems
These ductless systems provide a range of advantages over conventional air conditioners. Just because you do not require ductwork, they are simpler and cheaper to install. Moreover, they also take less space to be installed as a result, they are able to fit in any space which others cannot fit into. The noisiest unit is the outside one, so these systems are generally quieter than their counterparts.
Due to the spot cooling facility provided by ductless air conditioning systems, they are mostly employed in rooms that have the machinery and desktop computers, which require a certain level of temperature to be maintained. They are certainly known to maintain any kind of cooling desired.