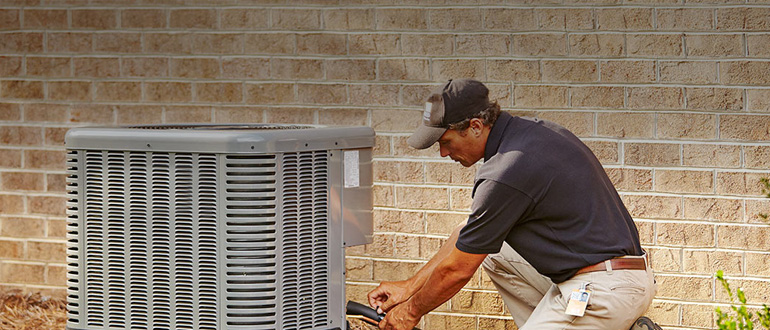 If you live in Georgia, you probably have an air conditioner to keep your indoors cool during the scorching heat of summer.
Most homeowners are at a loss when their air conditioner freezes up in the summer. This is a common problem that can turn a beautiful summer day into the opposite. Fortunately, a regular AC tune-up is one of the best means to fix this problem easily. Aside from regular maintenance, there are other ways to keep your air conditioner from freezing up. Read on for more information.
Check for Refrigerant Leaks: In most cases, low refrigerant levels cause ice build-up in air conditioning units. When an air conditioner runs with less refrigerant, it causes a dip in pressure that can, in turn, cause the evaporator coil temperatures to dip below freezing. This causes water vapor surrounding the coils to freeze on the surface. It is, therefore, important to have our HVAC technician inspect your air-cooling unit for refrigerant leaks at least once a year. Regular maintenance checks will also reduce the need for HVAC Repair Service in Bowie Md.
Change Your Air Filters: For your air conditioner to work optimally and keep it from freezing over, it is important to check and change out air filters regularly. Clogged and dirty air filters can prevent airflow through the return air duct. When there is not enough air passing through the evaporator coils, the coil will eventually develop a layer of frost that can turn into ice over time. Therefore, it is imperative to change your air filters regularly to prevent freeze-ups and improve indoor air quality and performance. According to our experts, you must change your air filters once every two months. The frequency at which these filters must be changed depends on the activity levels in your house. For example, if you keep your windows open throughout the day or have pets, you will have to change the filters every month. If you cannot perform AC cleaning on your own, call our technicians to help you clean out your unit and swap the air filters.
Ensure That the Blower Fan Is Working: A malfunctioning blower fan can exert pressure on your air conditioner to keep your home cool. If your cooling unit cannot get enough airflow, the coils are bound to freeze and cease to function. Have our HVAC technician inspect your blower fan along with its motor, speed, and power output.
Inspect Your Vents: Check your supply and return vents to ensure they are open and not clogged. Move any furniture that may be obstructing the vents so that the air can pass easily. Also, be sure not to close more than 2-3 supply vents as this can exert pressure on your air conditioner unit and cause freeze up.
If you are looking for an expert for AC repair or to prevent it from freezing, then look no further than AVS Heating & Air Conditioning. We offer a broad range of HVAC system services that include installation, repair, and maintenance. Call us today at (703) 457-9028.