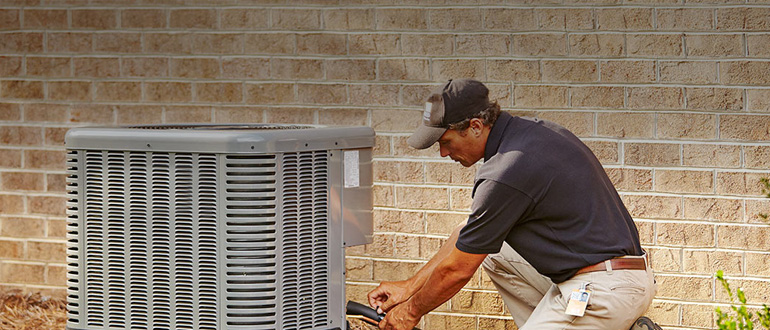 Winter can be a beautiful time of year, but it also brings colder temperatures and the potential for increased power usage as your heating appliances work harder to keep up.
Properly preparing your home for winter can help ensure that it remains comfortable and energy-efficient throughout the colder months. If you are looking for the best furnace repair in Alexandria, keep reading.
Some Winterizing Tips:
It is important to winterize your home to protect it and reduce wear and tear on your HVAC system, water heater, and pipes. Here are some expert tips to winterize your house:
Seal Air Leaks:
One important step in preparing your home for winter is sealing any cracks or holes to prevent drafts. One area to focus on is the doors, as gaps between the door and the frame can allow cold air to enter the home.
Installing weatherstripping on door draft stoppers can help keep the cold out and potentially save on heating costs. Another area to address is the caulking around windows, as gaps or worn caulk can let in drafts.
Insulate From Top To Bottom:
It is important to ensure that your home is well-insulated from top to bottom to maintain a comfortable and energy-efficient home during the cold winter. This includes the attic, crawl spaces, floors, and walls.
If your home has narrow, single-paned windows, it may be worthwhile to consider investing in double-paned windows from a heating repair company in Alexandria, VA. If this is not an option, insulated curtains can help to reduce heat loss through windows.
Clear the Fireplace of Debris:
Fireplaces can be a comfortable and cost-effective source of warmth during the winter months. However, it is important to properly maintain your fireplace to ensure the safety and health of you and your family.
This includes conducting a deep clean of your fireplace to remove any accumulated embers and wood ash and performing an annual chimney sweep.
It is also important to use your fireplace only when it is properly equipped with a chimney to vent smoke and fire emissions safely. Ignoring these precautions can pose risks to your health and the health of those around you.
Protect the Pipes:
During the winter, it is important to take precautions to prevent your pipes from freezing and potentially bursting. This can cause significant damage and disrupt your ability to live in your home while repairs are being made.
Be sure to seal any gaps to help maintain a consistent temperature around the pipes. Contact our professional in heating repair in Alexandria, VA, for assistance.
Service Your Heating System:
To reduce the risk of a home fire, it is important to properly maintain your heating equipment, including your furnace and chimney.
An annual inspection is advised where the condition of the chimney should be examined, including the brick and cap, to ensure they are in good condition and functioning properly. Regular maintenance can help prevent water leaks and keep animals out of the chimney.
To Summarize
If you are experiencing issues with your heating system, it is important to address them as soon as possible to ensure the safety and efficiency of your home. Don't let a malfunctioning furnace or broken chimney cause you stress.
Contact AVS Heating & Air Conditioning for a professional furnace repair in Alexandria today to schedule a service appointment and get your heating system back in working order. Call us at (703) 457-9028 or email us to schedule an appointment.