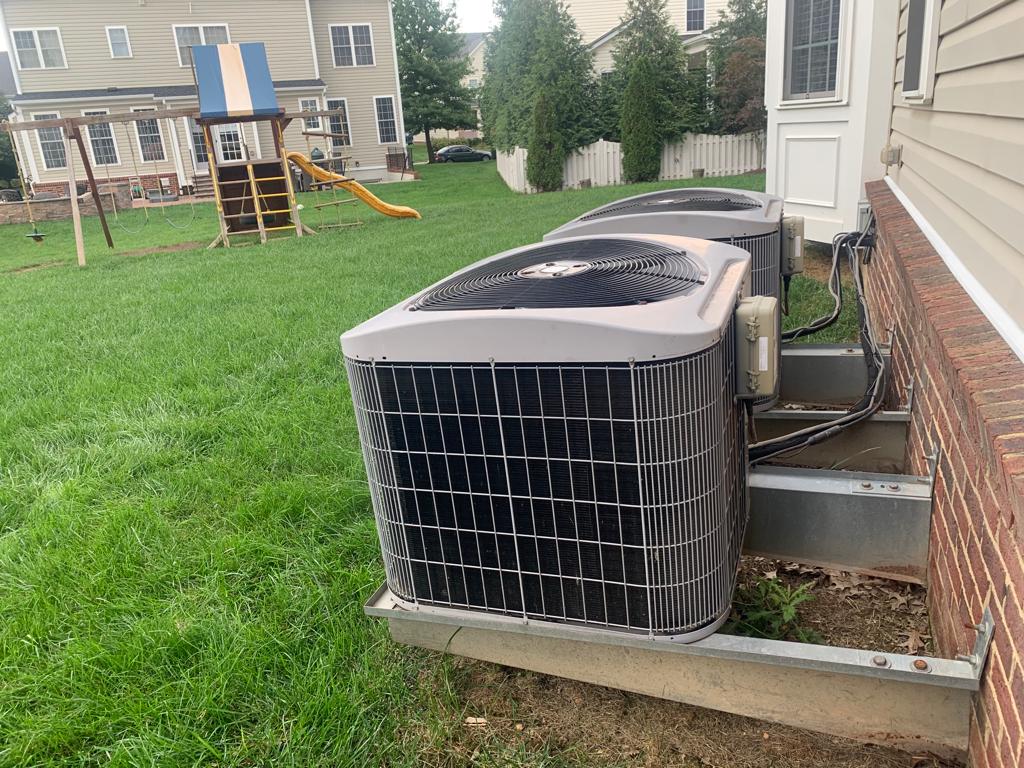 Now is the time to update your window Air Conditioner to a central Air Conditioner?
Do you know that over 35% of the U.S. population still rely on window air conditioner units to keep them comfortable during hot and humid days? If you have a window air conditioner unit (or more than one) instead of central air conditioning, the best time to replace your window units with central cooling is before summer arrives.
We would suggest the following reasons to upgrade your window AC unit to central air conditioning:
Energy efficiency: Three small window units use more energy than one central AC system installed in the house. Multiple window units mean multiple air leakages, which means more money spent on energy costs.
Long-term cost savings: A window unit comes in at a way cheaper price of around $400-$1,700 with monthly running costs of about $40-$120 depending on room size, insulation, its usage, etc. However, if you're planning to cool more than 4-5 rooms, then one central air conditioner will be cheaper in the long run.
Comfort: HVAC masters recommend a humidity level below 60% for your house or office to be comfortable, but that can be difficult to maintain as weather conditions change throughout the year.
Appeal: Most houses have their central air conditioner installed in the back yard or side of the house. Lots of homeowners like to hide the AC unit by installing a fence or growing bushes around it.
If you care about efficiency, window AC units have numerous deficiencies:
Significant air leakage: When you have a window AC, outdoor hot air can flow into your home, causing the AC to run longer and use more energy. In addition to wasting energy, it can also contribute to higher humidity levels in your home.
Harmful effects: Window AC gets mold inside the evaporator and it is common and hard to clean if it's a tight fit in windows.
Leaking Water: A common problem with window AC units is leaking water. As condensation forms on the evaporator coil, it will drip down to the floor, carpet or may damage hardwood.
Once the window unit is installed, the condenser coil is located in the outside part of a window and easily accumulates dirt on fins. Unfortunately, this means leaves, pine straws, and even insects, bugs and honey bees can find their way into window AC units.
If either of a window AC unit's coils become dirty, its cooling performance will suffer.
Once installed, the rear part of a window AC unit will be exposed to the outdoor elements.
A. Unfortunately, this means leaves, pine straws, and even insects can find their way into window AC units.
B. If either of a window AC unit's coils become dirty, its cooling performance may suffer.
C. Due to the potential for air leakage and recirculation, using a window AC unit is less efficient than a central AC. And where there's energy efficiency, there's also cost savings, bringing us to the following:
Long-term cost savings
When choosing between a window unit and a central air conditioner, it all comes down to the two main factors: cost and efficiency.
Decrease your utility bills with a central AC.
Central air conditioning is an investment that can cost anywhere from $6,000 – $14,000+ in Fairfax, Falls Church, Springfield, Reston, Arlington, and Alexandria VA. or Bethesda, Maryland. Compared to the $150 – $800 you'd pay for a window AC unit, the price of installing central AC might seem a little high but it normally comes with a 10-year warranty and window AC comes with one year warranty.
Remember that your upfront system costs aren't the only expenses you have to worry about, as you should also consider your monthly energy-saving bills.
Since window AC units are less efficient than most central AC systems, you may wind up with higher monthly bills.
In fact, running three or more window AC units can run up your utility bills more than running a central AC. This increase occurs because you're using three separate systems to pump out air and cool the room. Not to mention, if you're constantly opening or keeping the door open, window AC units have to work extra hard to make up for hallways and bathrooms in cool air, decreasing their energy efficiency and increasing your bills.
Comfort
If you're looking for a cooling system that provides more overall comfort, it might be time to go with central air conditioning.
With window unit(s), you might experience the following comfort-related issues:
Having to lug around a heavy AC unit.
Dealing with an uneven distribution of cool air in the house.
Being unable to open the window.
The noise of the fan motor and compressor going on and off all night in your bedroom.
Moving around a heavy AC unit: Most homeowners do need air conditioning year-round. During the cooler months, you probably need to remove your heavy window AC unit and put it away in storage, meaning you have to carry it around twice a year. However, with central air conditioning, you don't have to lift a finger or find storage for it.
Dealing with uneven cool air distribution: Unlike central air conditioning, which evenly distributes cool air throughout the house, a window unit only cools its room only. That means you may go from being perfectly cool and comfortable in one room to sweating in another.
Not being able to open the window: There's a certain level of comfort that comes with opening the windows to air out your home and enjoy some fresh air. If you can't open the window if the AC unit is blocking it, this is especially inconvenient if it's the only window in that room.
Appeal
Let's face it: A window AC unit is bulky and loud. Our last reason to upgrade comes down to the visual, sound, and curb appeal of a central AC system compared to a window AC unit.
Visual appeal
Some buyers opt for replacing their window AC unit with central AC due to the difference in visual appeal. A window unit covers up about half of your window with a bulky box and reduces the amount of natural light in your home.
On the other hand, a central AC is tucked away behind the fence, bushes, or flower pots. If you prefer the visual appeal of full windows, sun, and natural light, consider replacing your window air conditioner with central AC.
Sound appeal
When you install a window AC unit, the entire system is right there in the room—including the noisiest parts (e.g., fan motor or compressor). If you're trying to listen to music or on the phone in the same room with the window AC unit running, you may have to turn up the volume or speak louder if you want to hear over the unit.
Cooling a home with central AC is typically quieter than running a window unit. Why? Although central AC does produce noise, the outdoor unit is tucked away from sleeping or living areas.
Curb appeal
If you decide to sell your home down the line, you know what they say about curb appeal: you've got to have it. A clunky window AC unit could impact your home's curb appeal and its selling price. Not to mention, a window AC unit does not add to your home's value.
On the other hand, central AC is an investment with a substantial resale value. For example, installing central AC could increase your home's property value. Many buyers will not consider purchasing a home with a window unit or if it doesn't have central air.
Schedule with AVS Heating & Air Conditioning to upgrade your home's AC.
Upgrade your cooling with AVS Heating & Air Conditioningby calling VA. 703-483-9811 or MD. 301-217-9239.
If you're ready to replace your window AC unit with central air conditioning, and reside in Arlington, Fairfax, or Alexandria, go with the most trusted AC installers, AVS Heating & Air Conditioning. For over 30 years, we've helped Northern Virginia and Washington D.C. homeowners in the area with all of their HVAC repair and installation needs.
After you request a free replacement AC installation estimate, we'll work with you to find the system that's right for you.